Advent
Bloggin' Around the Christmas Tree 2012
Auch in diesem Jahr haben sich für
Bloggin' Around the Christmas Tree 2012
wieder einige Blogger zusammen gefunden, um euch als unseren Lesern den ganzen Dezember lang jeden Tag eine kleine Freude zu machen. Täglich öffnet sich auf zwei Blogs ein Türchen, das heißt ihr könnt bei zwei Bloggern verschiedene Beautypäckchen gewinnen.
Das jeweilige Türchen bleibt stets für EINEN Tag offen und wird bereits am nächsten Tag ausgelost. Somit solltet ihr unserer Beiträge aufmerksam verfolgen und eure Chance nicht verpassen :) In unserer Übersicht weiter unten, könnt ihr jeweils beide Bloggerinnen eines Tages anklicken und kommt direkt zu den teilnehmenden Websites. Auch in der Sidebar findet ihr eine Verknüpfung zu unserem Adventskalender.
Am 04. Dezember um 8 Uhr öffnet sich das Türchen auf violett-seconds.de und auch bei Nani könnt ihr an diesem Tag etwas gewinnen. Wir freuen uns auf eure rege Teilnahme.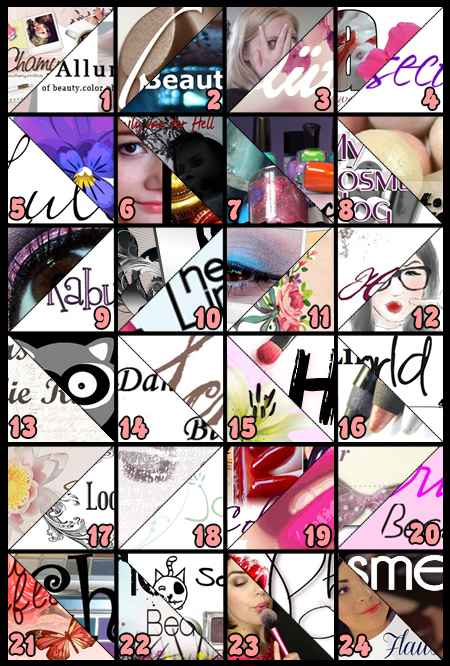 Natürlich darf für weihnachtliche Stimmung
auch der passende Song nicht fehlen, welcher von Valerie eingesungen
und von Suki und Jettie getextet wurde.
Bloggin' around the Christmas tree yeah it's make up party time
Open a present every day oh no that's not a crime
Bloggin' around the Christmas tree let the Christmas feelings flow
Guerlain and Dior, MAC and NARS, they are making our cheeks glow
You will never get enough of make up, that's okay
Let's enjoy this feeling together if it's nice or stormy weather
Bloggin' around the Christmas tree have a happy holiday
Everyone's happy, we hope you enjoy our christmas give-away
Freut ihr euch schon drauf ? ? ?
Songtext: Jetties Freund & Suki
Hochladen des Songs: Paint
Einsingen des Songs: Valerie
Coding der Übersichtsgrafik: Leonie
Bannergrafik und Bearbeitung: FrauKirschvogel